In this interview, Jonathan Boakes talked to us about ghosts 'The Lost Crown' and the 'Dark Fall'-horror adventures.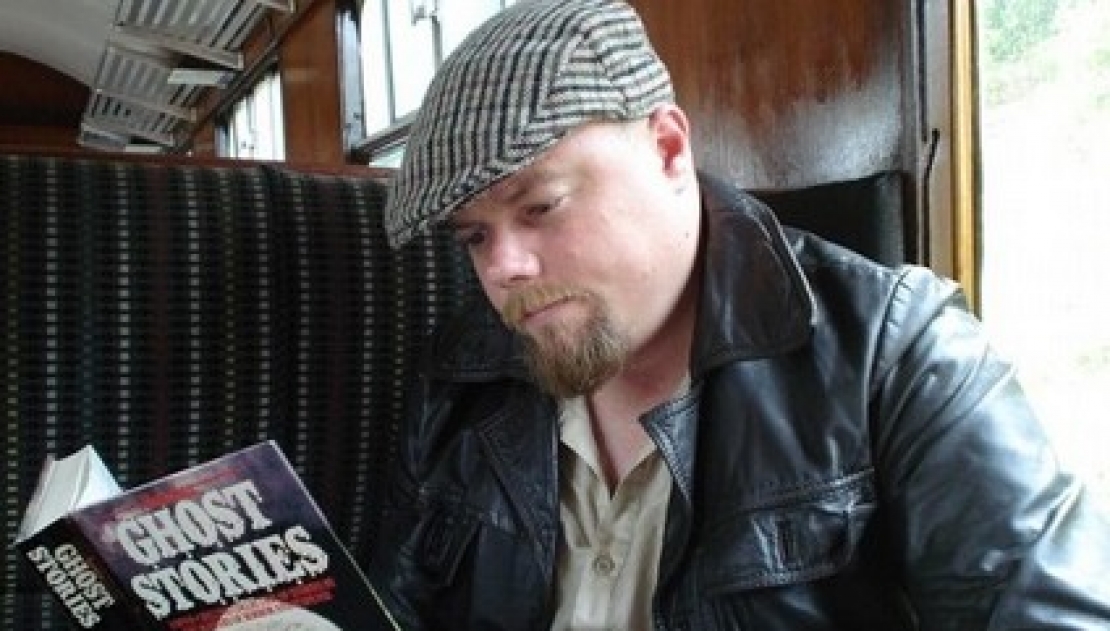 Adventure Corner:
Hello Jonathan, thanks a lot for taking some time for us. Please introduce you (and Darkling Room) to those of our readers who aren´t familiar with you or your previous games.

Jonathan:
Hello there! I am Jonathan Boakes, the writer and creator of the supernatural adventure games 'Dark Fall', 'Lights Out' and 'The Lost Crown: A Ghost-Hunting Adventure'. I've been producing games for 10 years, as a company called Darkling Room, based in Cornwall, England. I produce the games on my own, with occasional help from fellow independents.


Adventure Corner:
You´ve gained quite some kudos outside of the computerworld in other mediums, as a photographer and as a filmdirector for example. Please give us some insights in those other creative fields you´re at home at, and how they affect your way of doing computer games.

Jonathan:
I originally planned to be a photographer, both art photography and journalism. I had several exhibitions across London, in the 1990's, but I eventually moved towards multi-media. I hadn't played many games for a long time (not since my SpectrumZX days back in the 80's), so i was surprised to learn and see how visual and interactive they had become. After playing a few adventure games, I was seduced by the medium, and began thinking about what I could produce. Ironically, I have retuned to photography, with 'The Lost Crown', so I feel like I have come full circle.


Adventure Corner:
The time seems to have come and your latest game 'The Lost Crown: A Ghosthunting Adventure' is finally on its way to Germany. Please describe the plot of 'The Lost Crown' to our readers from the author´s perspective.

Jonathan:
Yes! Finally, the German version of the game is going to appear in stores, and online shops! It's a taken a long time, for one reason or another, but I am glad it is finally here. I believe the game, and the story which feeds the game, will be very popular in Germany. The tale revolves around a lost artefact, a Crown, which is Saxon in origin. It came to the shores of England via three Saxon Kings (ancient German noblemen). The Crown was said to have mystical powers, and would protect its wearer and land from invasion, bad spirits and dragons. Slowly, through the passing centuries, the tales of the Crown and the Saxon Kings became a folk tale. Stories of the Crown continue, but only in legends and children's stories.

But, what if you go looking for such mysterious treasures? Is it possible there is some truth behind the legend? You, the gamer, play the part of Nigel Danvers, a keen ghost-hunter and detective, searching the ancient land for clues as to where the Crown may be hidden. Your adventure becomes a dangerous one as you disturb the guardians of the Crown, who are long since dead. Even in death these guardians will stop at nothing to prevent the Crown from leaving its resting place. Using ghost-hunting gadgets, and your detective skills, you must locate and experience paranormal events, and learn secrets from the dead, if you are to survive your adventure and find 'The Lost Crown'.


Adventure Corner:
No doubt, you´re the star of the indie-adventure scene but not everyone of our readers might be aware of the circumstance that you did 'Dark Fall 1 and 2' as one man projects and the same thing seems to go for 'The Lost Crown' (maybe aside from a little additional help). Give us an idea of your type of working process and approach please, using the 'Lost Crown' as a concrete example, from the first ideas, to the research and the work on the actual game. How can we imagine ourselfs the way the game was made and a typical day in the life of Jonathan Boakes while working on the game?

Jonathan:
'The Lost Crown' was a very different game to make, in comparison to the 'Dark Fall' games. It is set in a real place (Polperro, Cornwall, England) and uses mostly real photographic backdrops, brought to life with animations and characters. I began the project by reading a lot of old ghost stories, especially short stories, which often feature lonely, dark, locations and vengeful ghosts, looking to share some secret with the protagonist. I wanted 'The Lost Crown' to feel like a real place, with real ghost stories, that people could explore and experience.

After writing the screenplay, which took several months, I went out into the world to find the locations. That was a great experience, as it meant I got to use a camera again, to capture the real world, as a director. It wasn't a straight forward process, as many of the locations had been modernised and...to be honest...spoilt by unnecessary clutter (road signs, litter bins, electric cables, cars etc etc). So, I had to remove a lot of that material from the photographs, or reconstruct the place in 3D. Some scenes in the game are built from scratch, using textures and shapes taken directly from real locations. It's a very strange thing to do; make a real looking world out of parts of a real world. I will include an example, with the interview, for you to see. It shows a harbour scene, from reality through to the 'game' version. The images are quite different, but are, in fact, of the same place.

Once the virtual world was created, I began adding the characters and puzzles. It's a little like putting together a stage play; you have an empty set, or stage, and a collection of characters to place on that stage. What they do, or what they say, will influence the gameplay and the way the gamer perceives the story. So, you could say it is the most important part of the construction.

Lastly, sound is added. Unlike my previous games ('Dark Fall' & 'Lights Out'), 'The Lost Crown' features a full musical score and lots of ambient sound. It was wonderful to create a story with daytime and nighttime, as the two worlds are very different. I hope I managed to bring the world to life, and gamers believe the characters are in a 'real' place.


Adventure Corner:
Since Ghosthunting will be an important element in the game, there will be some special ghosthunting gadgets. Please tell us a little about them and how these elements will be embedded into the gameplay.

Jonathan:
All the Ghost-Hunting Gadgets are based on real world examples, used by real paranormal investigators. I thought it important to give gamers a taste of what these people use, when conducting their experiments. So, you will be using a Nite-Vision Camcorder, to 'see' into the dark. You will also be capturing EVP's, which are unexplainable recordings captured on blank audio cassettes (very spooky!), and an EMF Meter, which pinpoints any disturbance in the electro-magnetic field which surrounds all things (both living and inanimate). You can use the EMF to track ghosts, to follow them to certain locations, and then use the Note-Vision Camera or Tape recorder to capture them to tape! It's a very exciting element in 'The Lost Crown', and I believe gamers will be ghost-hunting specialists by the end of play. The ghosts have many secrets and clues for you to learn, so it is essential that you learn how to get the best results, no matter how frightened you get.


Adventure Corner:
Speaking of gameplay: 'The Lost Crown' mixes 3.rd person and 1.st person elements.
How exactly does that mixture work and in how far does that automatically mean a change towards your previous games, concerning the gameplay. In general: What type of gameplay and tasks can the players look forward to?

Jonathan:
The previous games were very non-linear. They had a story; but the gameplay was driven by puzzles and exploration. 'The Lost Crown' also has lots of puzzles (more than 'Dark Fall' and 'Lights Out' put together!), but it is also story driven. Like I said above, I wanted to write a new classic 'Ghost Story', which moves the game forward. This is much easier to do if you have a character on screen; he, or she, can talk to people, and explore the locations, which provides the writer (me) with the opportunity to make cut-scenes and film sequences, which gamers can understand and follow from scene to scene.

But, I have made all of the Ghost-Hunting scenes in first person. I thought it was important to put the gamer behind the Nite-Vision Camera, so they could see what the character sees. You are, in effect, conducting the Ghost-Hunt yourself. The Nite-Vision first person scenes are quite scary. I nearly got a 'Mature' rating, in the USA, for one sequence, which is set in an old crypt, deep under the ground. I don't want to spoil the surprise, but gamers should not play that sequence, on their own, at night!


Adventure Corner:
There seem to be quite some references to the 'Dark Fall' Games in 'The Lost Crown' and the same thing the other way around, in how far are 'The Lost Crown' and the 'Dark Fall' series connected to each other?

Jonathan:
You don't need to play the 'Dark Fall' games first. The references are cosmetic, and are there for eagle-eyed fans to spot. I like to think that my games are all set in the same 'world' as each other, so there are always going to be some similarities, and elements that all games share. Most are there for fun, but some are quite cryptic and may appear in future games.


Adventure Corner:
One thing that immediately strucks the eyen when having a look at Screenshots of 'The Lost Crown', is the beautiful art design, using black and white (photographies) with some elements being coulourated. Despite that, i noticed in the trailers that there is a lot of life in the single screens (lots of moving elements etc.), showing the impressing effort that was put into bringing the world of Saxton to life. Tell us something about the visual aspect of the game and how it came along.

Jonathan:
It was very difficult; mixing 2D with 3D to bring the world to life. It is easier if you include 2D animation on 2D scenes, and 3D in 3D worlds, but I like to set myself a challenge. I wanted to include as much wildlife and weather as possible. So, each day in the game is different. It is foggy, on the first day, as the mist drifts in off of the sea, in a spooky, eerie way. The second day is bright sun, with beautiful blues skies and birds in the air, and the last day is pouring down with rain, with the world being lit up by occasional flashes of lightning. I am very proud of the game, as I believe I have captured what a Harbour Town looks and 'feels' like, from day to night, and back to day. It's very specific, so took a lot of observation and work to get things as right as possible. Luckily, I do actually live where the game is set, so I had the perfect example right on my doorstep. Many of the ghost-stories and characters are based on real places and people.


Adventure Corner:
'The Lost Crown' seems to be a game that creates a lot of scary elements within the head of the player, without getting in his face all of the time, having a very strong psychological effect on the player. I guess the atmosphere of the game (and the game seemes to be oozing atmosphere) will be a keyelement in that process. Please try to describe the kind of atmosphere the game brings across and talk about psychology in 'The Lost Crown'.

Jonathan:
'The Lost Crown' has an eerie atmosphere. The setting is the sort of place where 'anything' could happen. Many of your readers will already know of somewhere like that. They are the places where people don't stay for too long, pets disappear and everyone has a story to tell, whether a murder mystery or a ghost story. I had to work out what makes those places so specific, and try to capture it for the game. Most of the locations are spooky, old, and ooze atmosphere. For example; You will get to explore an ancient church, long forgotten by the people, which hides away in the forest. The village which once stood around the church, collapsed and rotted away after The Great Plague of the Middle Ages. But, the stone building still stands, and hides many clues in the stonework and statues. There are no visitors and no tourists, only you, wandering around the church, looking for clues that will lead you to The Lost Crown. The place echoes with the past, and creaks with age. Listen out carefully, and you will hear quiet, distant footsteps, as if someone still walks around the building, wondering where the congregation have gone, and why they have stayed behind. Use the Nite-Vision Camera and you may actually see this ghostly figure, pacing back and forth. Only you will know that the ghost still resides there...unknown, or forgotten by the living.


Adventure Corner:
In contrast to the 'Dark Fall' games, the soundtrack seems to have a much more important role in 'The Lost Crown'. Please give us some infos on the soundtrack and on how important, both, music and sound effects are, for getting under peoples skin in this particular case.

Jonathan:
Sound, I believe, is much more effective at delivering atmosphere than the visuals. You can suggest temperature, tone and size with sound. As an independent, on a very small budget, it is essential to use the sound to my full advantage. I love making sounds, in the studio, and creating new ones using filters and sound effects. What do 'ghosts' actually sound like? No-one knows, so it is great fun to explore different soundscapes and noises, to get things right.

I record as many sounds as possible in the 'real world'. So, the watery waves of the harbour were recorded outside my door, and the seagulls, which shriek and squawk, are still here, in the view outside my window. I think the game benefits from sounding as realistic, and as unusual as possible. I think a lot of people would be surprised by what certain places actually sound like. It's too easy to imagine a soundtrack, you need to get out there and record it. It's full of chaos and surprise.


Adventure Corner:
Ghosts and paranormal activities seem to be one of the leitmotifs of your games, when and how did your interest in these subjects start? Would you say that, after doing so much research in this field, your own disbelief or belief in these things has changed? Anecdotes are always welcome of course. :)

Jonathan:
I do hope, that one day, I will see some proof of ghosts. I haven't seen anything conclusive, as yet, but I like to keep an open mind (like Scully!). Someone, recently, explained the first rule of thermodynamics to me. Don't fall asleep, it's quite interesting! Promise! The rule explains that energy cannot disappear, or leave, it can only be transformed; to become a new form of energy. For example, kinetic energy (movement) becomes thermal energy (heat). It has long been theorised that ghosts are, in fact, not the spirits of the dead, but are an echo of energy, a recurring event, that indicates where life once existed. I explore the theory, in 'The Lost Crown', by including the EMF Meter. It senses changes in the Electro-Magnetic field, around us, suggesting that some change in energy is taking place around you. Is a recurring phantom image about to appear? Are ghosts just images of our former selves, our actions, or future actions? I've taken part in a lot of 'Ghost-Hunts', getting the best results from the EMF Meter and Tape Recorder. I insist on using a Magnetic Tape Recorder (old fashioned) rather than a MP3 recorder, as I believe 'energy' is recorded onto the tape. I have recorded voices, and sounds, onto tapes when no possible source was present. Whether the voices are those of the dead is another matter, but the sounds have to have come from someone, somewhere or something.

I'll be honest, I have got very scared, on Ghost-Hunts, when listening back to tapes with voices on them. Imagine standing in an empty room, you are utterly alone, and the place is quiet. You call out a few questions into the night, but hear no sounds in response. Later, you listen back to the tape, and hear voices saying things like "I can see you", "Leave us Alone", "Help me", and my favourite, "Why are you looking at me". That's very spooky. It suggests that someone was standing right next to me, but I could not see, or hear, any sign of them. A ghost? No-one knows. But it can get very scary, if you are on your own.


Adventure Corner:
In addition to the last question: As this is a fascinating topic for research, do you have some good recommendations, where the fans of your games can get some good sources of information, in case they´re interested in doing further research in the paranormal/ghosts themselfs?

Jonathan:
Most towns, in the UK, have a paranormal group, so imagine Germany is similar. Ghost-hunting is quite fashionable at the moment, across the EU. Some are very geeky, like those characters from the X Files; where-as others like to think of themselves as scientists. It all depends what kind of Ghost-Hunter you want to be. It's all interesting, but always keep in mind that there's no proof that ghosts actually exist, so beware of any groups that say they have absolute proof. I'd suggest looking for groups, online and on forums. You'll get to know people first, before you find yourself in a dark castle, on Halloween, with no one to hear you scream!


Adventure Corner:
What Horrormovies, other movies and literature would you conside as an influence, as far as the writing process of your games go, what about classical ghost movies like 'The Haunting' or 'Burnt Offerings' for example?

Jonathan:
I love 'The Haunting', the original version. That re-make, in the 1990's was terrible! There's something about the older supernatural films, which gives them an edge. I like 'The Wickerman' (about an isolated pagan community) and ghost films like 'The Innocents', and 'Haunting of Hill House' (not to be confused with 'House of Haunted Hill'). But, there have also been some great ghost stories in recent years, such as 'The Others', 'The Orphanage' and 'Ecole Du Temps'.

All those films have a strong European influence (even 'The Others'), which is interesting. I wonder if the USA and Britain can make scary ghost stories anymore? I hope so. But, if any of your readers have any German ghost films they can recommend, please let me know, as I am addicted. Oh, I should mention how much impact the Japanese horrors made, a few years back. They really reinvented the classic ghost story, with lots of new twists and ideas. Films like 'Pulse' are really quite frightening. There is a suggestion, in that film, that the dead do not leave us, they are just waiting for a chance to break back into out world, and take it for themselves. Horrible! Think back to my voices captured on tape, and ghosts can still be scary.


Adventure Corner:
'The Lost Crown' received rave reviews in the territories it was released in until now. The Just Adventure review even compared the quality of storytelling, you´ve achieved in the game, to probably adventuregamings biggest storytelling name, Jane Jensen. Now, that´s quite a compliment for your writing abilitys. Would you consider her as an influence, as far as the potential of mature storytelling in adventuregames, the strong sense for atmosphere and the careful historical research goes? And despite that, what particular games and designers/writers left a lasting impression on you, that might have been a reason for doing adventuregames yourself (back when you started)?

Jonathan:
I started writing games after playing 'Myst', '7th. Guest' and the early Sierra games, so there is a big influence there. I would say that 'Zork: Nemesis' is my favourite adventure game, even after all these years. I replayed the game, a few weeks ago, with a colleague. He had never seen the game, and was impressed by the gothic tone and scale of the story. It's still wonderful, but I am aware that it split the audience. I'm on the 'love it' side of the fence.

I was really surprised by the Jane Jensen comparison, on Just Adventure, but I was pleased. I think Jensen, like me, likes to dive into a story, do the research and make the gaming experience as rich as possible. I really like 'Gabriel Knight 3', which had a super story. It was a lesser-known story at the time, the Holy Grail books were on shelves with all those mad theories, but it was a long way off from Dan Brown's 'Da Vinci' Remix. 'GK3' had a lovely mix of characters, and the setting came across based on the story. The gfx don't look so good now, but it's the story that drives the game. I think 'The Lost Crown' exhibits some influence from 'GK3'...small town, archaeology, strange mix of people...but I am also aware of how much M.R.James' 'A Warning to the Curious' had on my screenplay.


Adventure Corner:
It´s no secret that you´re busy working on the third game of the 'Dark Fall' series right now, are there any infos at this point of time that you can give our readers about part three, or is it still too early for getting into details? Feel free to reveal as much as you like. (note: This interview took place before the official announcent of 'Dark Fall III: Lost Souls', that followed a little later)

Jonathan:
I haven't announced any definite news, as yet, but it will happen very soon. I am working on a third 'Dark Fall' game, which returns the gamer to the original setting, that wonderfully spooky old train station and hotel. I always wanted to go back there, and take the gamer with me, and now seems like a perfect time to do so. But, be warned, the place is not quite as you remember it. The buildings are even more derelict, and rotten, and something very nasty hides in the shadows. Light will be your ally, and savoir, on this new adventure, as you prepare to learn the truth behind the 'Dark Fall'.


Adventure Corner:
Thanks a lot again, Jonathan. We´re looking forward to the german release of 'The Lost Crown' a lot. It was a pleasure to do this interview and we´d really like to welcome you here again in the future, for example shortly before 'Dark Fall 3' will be released. All the best to you!

Jonathan:
I will be back! I love hearing from gamers, from all over the world. My stories are quite specific, and not everyone comes to the same conclusions, so it is fascinating to look out for cultural perspectives and interpretations. Remember, also, please let me know of any cool German ghost films. I really cannot get enough of them.